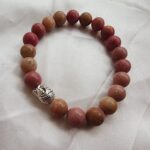 Rhodochrosite Bracelet 8mm
28
people are viewing this right now
Guaranteed safe & secure checkout
Description
Crystals used in Rhodochrosite Bracelet 8mm
Rhodochrosite
Healing Benefits of Rhodochrosite
Kindness
Comfort
Friendship
Tolerance
Harmony
Self-love
Compassion
Healing
Rhodochrosite is a remarkable gemstone that harmonizes both the physical and spiritual aspects of our being. Its unique qualities ignite feelings of love and passion while revitalizing the soul. By opening the heart, Rhodochrosite has the power to dispel feelings of sadness and cultivate a positive and joyful perspective.
It not only boosts self-esteem but also brings solace during times of emotional strain. Moreover, Rhodochrosite nurtures an optimistic mindset, stimulates creativity and innovation, and enriches our dream experiences. When it comes to physical well-being, Rhodochrosite plays a vital role. It helps regulate and stabilize the heartbeat, creating a sense of balance within the body.
Additionally, this gemstone assists in maintaining healthy blood pressure levels and promotes circulation, benefiting not only the heart but also the kidneys and reproductive organs. Rhodochrosite has been known to alleviate migraines, address skin disorders, restore thyroid imbalances, and provide relief from intestinal problems. By purifying the circulatory system, it even aids in improving eyesight.
In summary, Rhodochrosite serves as a powerful catalyst for integrating the physical and spiritual aspects of our lives. Its influence extends to matters of the heart, emotional well-being, and overall physical health. By embracing Rhodochrosite's energy, one can experience a renewed sense of love, joy, and vitality, while enjoying the benefits of enhanced creativity, improved circulation, and a clearer vision.
There are no question found.